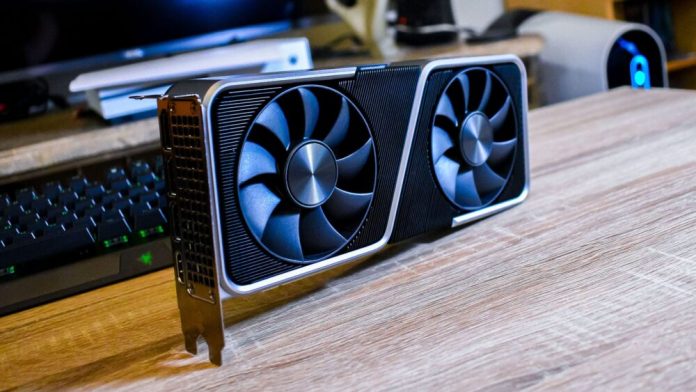 The upper-end models of Nvidia's RTX 3000 GPUs are here including the RTX 3070 Ti and RTX 3080 Ti. Starting at $1200, the RTX 3080 Ti is just as powerful as the RTX 3090, becoming one of the most powerful desktop GPUs in the world.
RTX 3070 Ti
Starting with the RTX 3070 Ti, it offers 20% faster performance than the base RTX 3070 and is more powerful than AMD's Radeon RX 6800 XT as well. It is based on Samsung's 8nm process node and features a full GA104 GPU core designed to handle 1440p gaming with ease.
The RTX 3070 Ti is a bigger upgrade over its non-Ti model as compared to the RTX 3080 Ti and its base model. This is because it features an increase in cores as well as VRAM configuration.
The graphics card features 6144 CUDA cores or 48 SMs, which is 4% higher CUDA cores than the RTX 3070 and about 30% lower than the RTX 3080. It has 8GB GDDR6X memory and it comes close to the RTX 3080 in terms of TGP at 290W. It will retain the 256-bit bus interface and 19 Gbps pin speeds like the RTX 3080 and 3080 Ti.
The GPU is expected to launch at the start of June for $600.
RTX 3080 Ti
Next up is the RTX 3080 Ti which offers a 50% performance boost over the previous generation, the RTX 2080 Ti, and 2x better performance than the GTX 1080 Ti. Nvidia claims that it is one of the fastest graphics cards for 4K gaming.
It comes with 12GB GDDR6 memory and 19 Gbps pin speeds down from the RTX 3090's 19.5 Gbps speeds. It has the GA102-225 GPU core featuring 10240 CUDA cores within a total of 80 SM units. The base clock speed is 1365 MHz and the boost clock goes up to 1665 MHz.
The TGP is slightly higher than the RTX 3080 at 350 Watts and it uses a 384-bit bus interface which translates into a total bandwidth of 912 GB/s.
In terms of overall performance, it goes on par with the RTX 3090, which is a monster of a GPU in both performance and dimensions.
Just like the RTX 3070 Ti, the 3080 Ti will also go for sale in early June for $1200. However, do keep in mind that prices and stocks are not expected to normalize for any of the GPUs until 2022.