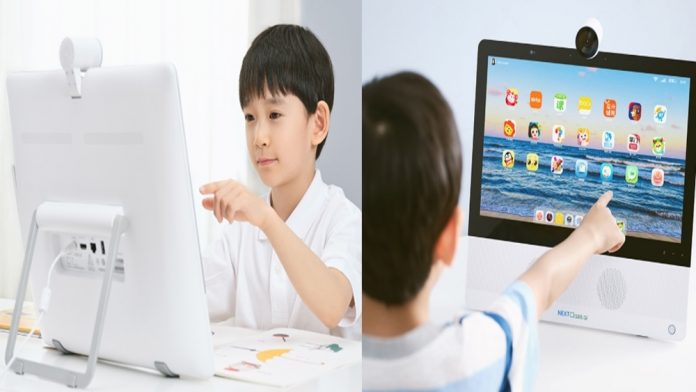 NextClass.ai, a Xiaomi subsidiary, has launched the NX1 tablet under the company's Youpin crowdfunding platform. Like all the tablets from the subsidiary, the NX1 is also focused on education for kids between 3 to 12-years.
The tablet is loaded with a plethora of online classes as well as practice sets and audiobooks. It is designed to provide users with a rich interactive experience to increase the child's interest in studies.
Design and Display
The tablet comes with a more of PC monitor like appearance. It is built around a 15.6-inch LCD with TUV Rhineland certification and has a huge chin that houses two stereo speakers.
The display supports functions such as ambient light detection and also alerts you if you get too close. According to the company, they have emphasized eye protection to keep the kids' eyes safe.
Internals and Storage
The NextClass.ai NX1 tablet is powered by a Quad-core Cortex-A55 topped with 4GB of RAM and 64GB of storage. It is also equipped with built-in 1.2T deep neural network computing NPU, support for 2.4/5G Wi-Fi, Bluetooth 4.2, USB, HDMI, and other output interfaces.
It also comes with a stylus pen, HiFi audio, and 360° omnidirectional microphone.
Cameras
The tablet is equipped with two cameras. The main camera is mounted on the top, similar to a webcam, and focuses on the student. While the secondary camera is housed at the bottom of the tab to focus on the student's book, both cameras can be adjusted at different angles.
Pricing and Availability
The product is currently being crowdfunded on the Xiaomi Youpin platform for $250. After the crowdfunding is over, the device will retail for $338.