Google released the last beta build (fifth) for Android 12 last week, meaning it's time to look forward to the stable release. Google has said that we can expect stable Android 12 to launch in a few weeks, but never gave us a precise date.
Google Pixel 6 and 6 Pro Rumored to Release on Oct 28
However, thanks to XDA Developer's Mishaal Rahman, we have a possible launch date for Android 12. He says that a stable update may release on October 4 for Pixel phones as that is when Google plans to release to AOSP.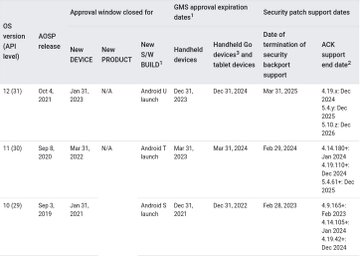 This news comes from a leaked internal Google document that shows when the company will cease approving software builds based on Android 10, 11, and 12. This is because Google needs to give its stamp of approval to every stable release OEMs claim have passed Google's compatibility test for GMS (Google Mobile Services).
The document also lists when Google will release the source code for a particular version of Android. It shows that Google will publish the source code for Android 12 on AOSP on October 4, 2021. This will likely be the same date as Android 12's stable release for Pixel phones.
However, we recommend taking this information with a grain of salt since Google could always change the date as it hasn't been officially announced. The official date will only be confirmed once Google announces it publicly.