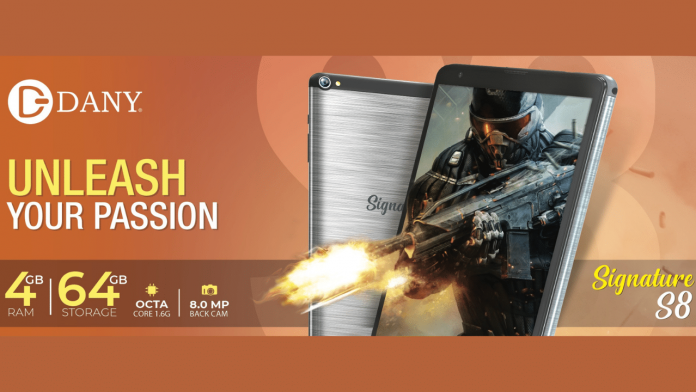 To keep up with the latest trend of online communication whether it is for office work or to take online classes, everyone is looking for a good and affordable device. While computers and laptops have a certain charm of their own, it is no secret that tablets are the most convenient and easy to afford if you want multiple features within one device.
Dany Signature S8 Tablet
Luckily for all tablet users in Pakistan, Dany Technologies has just introduced their Signature S8 tablet which is jam-packed with all the attractive features one can hope for in a good, affordable tablet.
The device comes with a 1-year warranty which is available at 72 customer care centers nationwide. The device comes at a low price of PKR 24500/- and can be bought from any mobile center (online and in-store) in the whole country.
Features
The most highlighted features of this perfect on-the-go work tablet include a 4GB RAM with 64 GB memory which is great when it comes to storage capacity. In addition, it also supports an SD card of up to 128 GB so you can never go out of space. The Octa-Core processor of the Dany Signature S8 tablet supports a 3500mAh battery with a type C quick charger which makes it perfect for longer use.
The device supports Android version 10.0 with an 8-inch IPS display screen that showcases bright colors and is awesome for gaming or watching movies and your favorite shows on one handy device. Other salient features of the device include:
4GB RAM
64GB Memory
Octa-Core 1.6G Processor
External Card Supported up to 128 GB
8'' IPS display screen
8.0 megapixel rear Camera
5.0 megapixel front Camera
Battery 3500 mAh – Type C quick charge
4G LTE Supported
Wifi connectivity
Built-in FM radio
Single SIM
Dual Camera
Android 10.0
Torch Light
Screen Protector
Key Usages of Dany Signature S8
With an Octa-Core processor, the Dany Signature S8 tablet is perfect for playing your favorite heavy-duty games like PUBG or Call of Duty. It can be used for both educational and professional purposes whether it is to take online classes, exams, or for Zoom meetings.
As the device is comparatively affordable than the rest and also offers a wide range of features, it is best for kids and for adults alike, so you don't have to look any further when it comes to buying your next favorite tablet for everyday use.