Jazz strengthened its leading position in the market in Q1 2021 and is back to double-digit growth in revenue, maintaining its strategic focus on 4G penetration and expanding digital services.
Jazz today announced that it generated its highest-ever revenue of Rs. 55.05 billion during Q1 2021, which is about 11.7 percent higher than the revenue of Rs. 49.282 billion that it had reported during the same quarter last year.
The company that the revenue growth was mainly due to a strong quarter for the mobile data revenue that had grown by 28.4 percent year-on-year (YoY).
Its financial statement detailed an expansion in the 4G smartphone users at 47.4 percent, which had also played a key role in the growth. This number had grown by over 7 million during Q1 2021.
Jazz's overall customer base has grown by 11.7 percent from 62 million subscribers a year ago to reach 69.2 million subscribers in the first quarter of the current financial year.
Its Data Revenue increased by 28.4 percent to Rs. 20.455 billion during the first quarter of this year as compared to Rs. 15.93 billion during the first quarter of the last year.
Average Revenue Per User
While additional users brought in an expansion of 12 percent to Jazz's total customer base for Jazz, the telecom's ARPU declined nominally by 0.5 percent YoY, registering Rs. 246 per user month during Q1 2021, down from Rs. 247 per user.
The company attributed this to the overall softness in revenues due to the impact of the pandemic.
Jazz said that it will continue with its strategy of focusing on higher quality of sales in order to further improve the customer mix of its subscriber base while leveraging network quality and higher bundle penetration to achieve this.
JazzCash
JazzCash continued to exhibit a strong momentum against the backdrop of the pandemic as its user base had a growth of double digits, and it finished the quarter with 13.9 million monthly active users (up 79 percent YoY) and 30.8 million registered wallets (up 67 percent YoY) in Q4 2020.
The revenue from this segment had posted a growth of 27 percent YoY as well.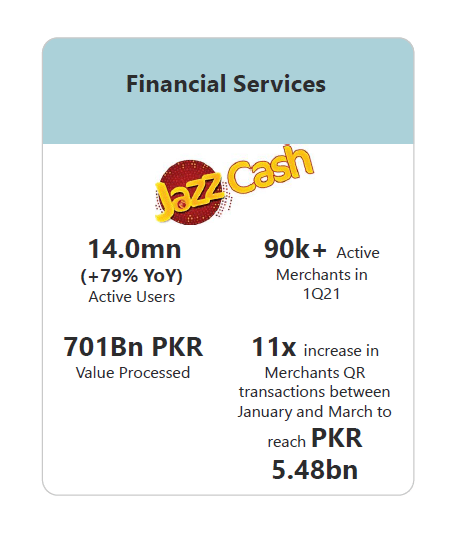 Financial Highlights
EBITDA
The Earnings Before Interest, Taxes, Depreciation, and Amortization increased by 8.1 percent year on year as a result of revenue growth, partially offset by additional investments in JazzCash. Excluding these, the EBITDA in the core Jazz business increased by 12.8 percent year on year.
Commenting on the development, Aamir Ibrahim, CEO of Jazz, said, "Jazz has been focused on ensuring a robust and expansive 4G network especially as more and more countrymen relied on the internet as an essential communication, productivity and entertainment tool during the pandemic."
"We are very pleased to see the rise in the adoption of digital tools in all aspects of life – especially fintech where the growth of JazzCash as Pakistan's leading mobile wallet and payments provider is very impressive. Given the ever-growing needs and expectations of our customers, Jazz remains firm in its commitment to connect the underserved with fast and reliable 4G and to bank the underbanked through JazzCash," he added.