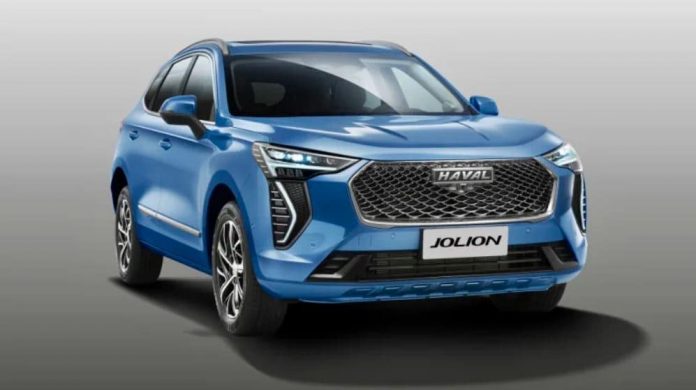 In a recent update shared by Automark.pk, the price of the highly anticipated Haval Jolion SUV has been revealed to be Rs. 5,525,000, and the H6 has been priced at Rs. 6,295,000. Furthermore, the booking amount of the Jolion will be Rs. 2 million, and that of the H6 will be Rs. 2.3 million.
Haval Jolion and H6 are compact crossover SUVs that are set to rival the KIA Sportage, the Hyundai Tucson, the MG HS, the Proton X70, and several others. They will be introduced in the Pakistani market by Haval in partnership with Sazgar Engineering Works Limited (SEWL) — the company that had introduced the Haval car brand to the Pakistani market a couple of months ago.
The company had brought in the test units of these vehicles three weeks ago. The Jolion reportedly has a 1.5-liter turbocharged 4-cylinder engine that makes 147 hp and 220 Nm of torque, all of which is sent only to the front wheels via a 7-speed DCT automotive gearbox. On the other hand, the H6 has a more powerful 2.0-liter turbocharged 4-cylinder engine that makes 200 hp and 320 Nm of torque that is sent to all four wheels via a 7-speed DCT automotive gearbox.
Both vehicles have advanced features like six airbags, LED headlights and tail-lights, Daytime Running Lights (DRLs), multiple drive modes (Standard, Eco, Sport, Snow), Adaptive Cruise Control, a Traction Control System (TCS), a smart infotainment system, an Anti-Lock Braking System (ABS), and an all-digital Head Unit Display (HuD).
The booking of the vehicles has begun today. Initially, both vehicles will be sold as CBUs, but because of the current progression of Pakistan's SUV market of Pakistan, it is safe to say that although the vehicles have several amazing features, they are in for a lot of competition because of several other SUVs in the market that also offer a handsome range of features at more competitive prices.